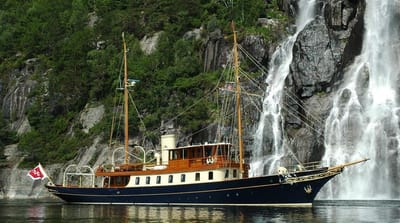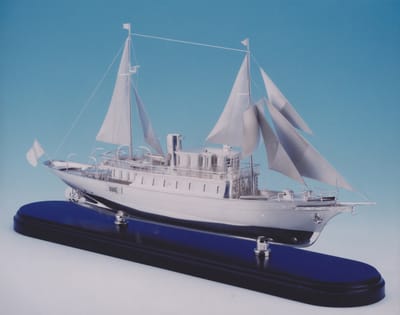 The Yacht
Widely recognized as one of the most stunningly beautiful and photographed classic yachts, Atlantide's glamour has sustained her rich history. Owned by some of the most celebrated yachtsmen of their time, Atlantide is a gentleman's yacht for the romantique.
One of the "Little Ships" in the Battle of Dunkirk, she is among the privileged few honored to fly St. George's Cross.
Restored and completely rebuilt numerous times over her lifetime, her latest total restoration has reached a new pinnacle in artistry and craftsmanship of the Art Deco genre. A showcase of museum quality and priceless Lalique furniture, glass panels and sculptures, Atlantide's interior celebrates the 1930's heyday.
When re-launched in 1999 she was classed as the world's most elegantly detailed expedition yacht with a proper sailplan on two spars, including a square sail for downwind and capability of 7 knots under sail alone! With her Vosper stabilizers and a range of 3,250 miles,
Atlantide was launched in 1930 as Caleta, for Sir William Burton. She was designed by the gifted naval architect Alfred Mylne, designer of the Royal Yacht, Britannia and built by Philip and Sons of Dartmouth, UK.
In 1939, Atlantide joined the fleet of 'Little Ships' requisitioned by the Royal Navy and in May of 1940 she participated in Operation Dynamo, the rescue of Allied Forces from Dunkirk. She took an active role and spent seven days under intense shelling and dive bomber attacks while rescuing soldiers from the harbor and surrounding beaches, lastly taking a stranded landing craft under tow and delivering her 35 troops to safety. In honor of her participation in the evacuation of Dunkirk, Atlantide is one of very few ships permitted to fly the distinguished St. George's Cross.
After the war she was purchased by Pandelis B Pandelis, a Greek shipping magnate who renamed her Ariane and her new homeport was Cannes. She was subsequently purchased by Maldwin Drummond and renamed Corisande, with Antibes as her homeport. In the late 1980's she was sold to Italian Count Nicolo delle Rose, who brought her the name Atlantide and moved her homeport to Monaco. In 1998, Atlantide was purchased by Thomas Perkins, a who applied his substantial genius (and fortune) to a comprehensive rebuilding and refit of the yacht, which at $18-20M, is reputed to have been the most expensive refit per meter ever undertaken.
The Artwork
As a yacht harkening from the 1930's, an Art Deco theme guided all aspects of the design and décor to a standard that celebrates the glasswork of renowned Deco artisan Rene Lalique, to an unprecedented level of detail.
In short, Atlantide a visual feast, beginning with the inlaid marquetry of contrasting woods; quilted smoked maple, ebony, maple, and padauk, overlaid by abalone and mother of pearl roundels with trim and countertops of honey marble and other elegant contrasts that appear throughout the yacht. The marquetry is complimented with an abundance of custom inlaid Lalique glass panels, crystal glass columns, sconce lighting and sculpture.
The Model
Langfords was approached by the owner's wife, herself a world famous author, to create a silver model which she wanted to present to her husband on his birthday. Working from the original builder's plans we recreated this perfect scale model to sit on the yacht's dining table and it is still there to this day.